Status
Guide
review-in-progress
Published:
Last updated:
Developed in collaboration with the City of Melbourne the central city planning provisions:
provide adequate separation between tall buildings and to the street
ensure that public space and important landmarks are protected from wind and overshadowing
establish a reasonable floor area ratio for new developments.
Development above the yield will be matched by public benefits such as public open space, laneways, community space, or affordable housing.
The provisions apply to the Hoddle Grid and Southbank, and align Melbourne with planning rules used in cities across the world such as New York, Singapore, Vancouver, and Sydney.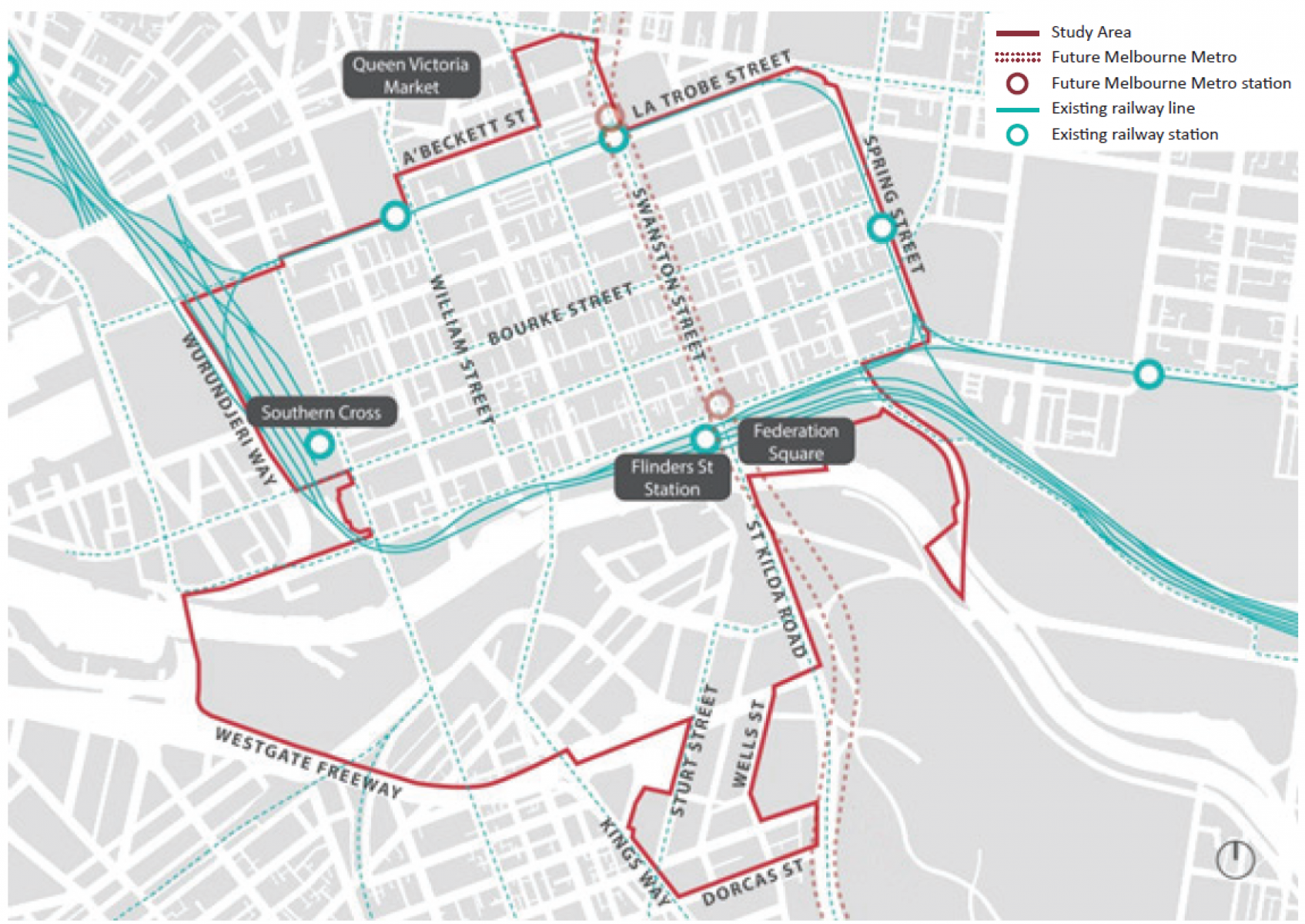 Shadowing and wind controls
Discretionary and mandatory overshadowing requirements protect key public spaces at key times.
Key public spaces include:
Federation Square
the State Library forecourt
the Shrine of Remembrance
Yarra River
City Square
Bourke Street Mall
Boyd Park in Southbank.
Revised wind speed criteria based on average comfort levels and not just extreme wind events.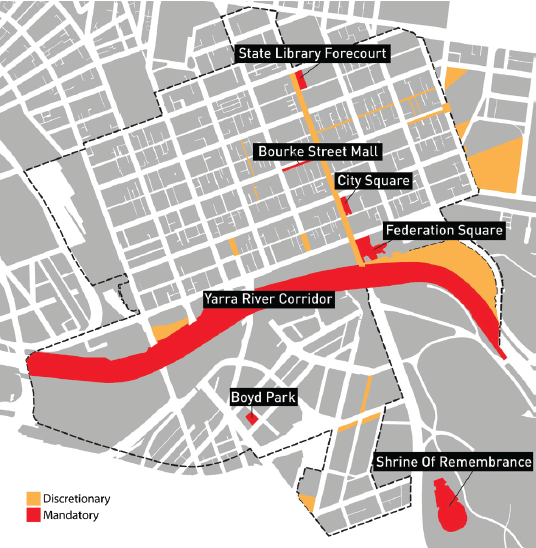 Map of areas where discretionary and mandatory overshadowing requirements apply.
Floor area ratio with public benefits
A reasonable base floor area ratio of 18:1, with discretion to agree to a floor area uplift bonus if all relevant built form parameters are met, and an appropriate public benefit is provided.
Floor area uplift
It is common practice around the world to require public benefits when the floor area ratio exceeds the base level. The value of the extra floor area is transparently calculated and the public benefits to be provided are publicly reported.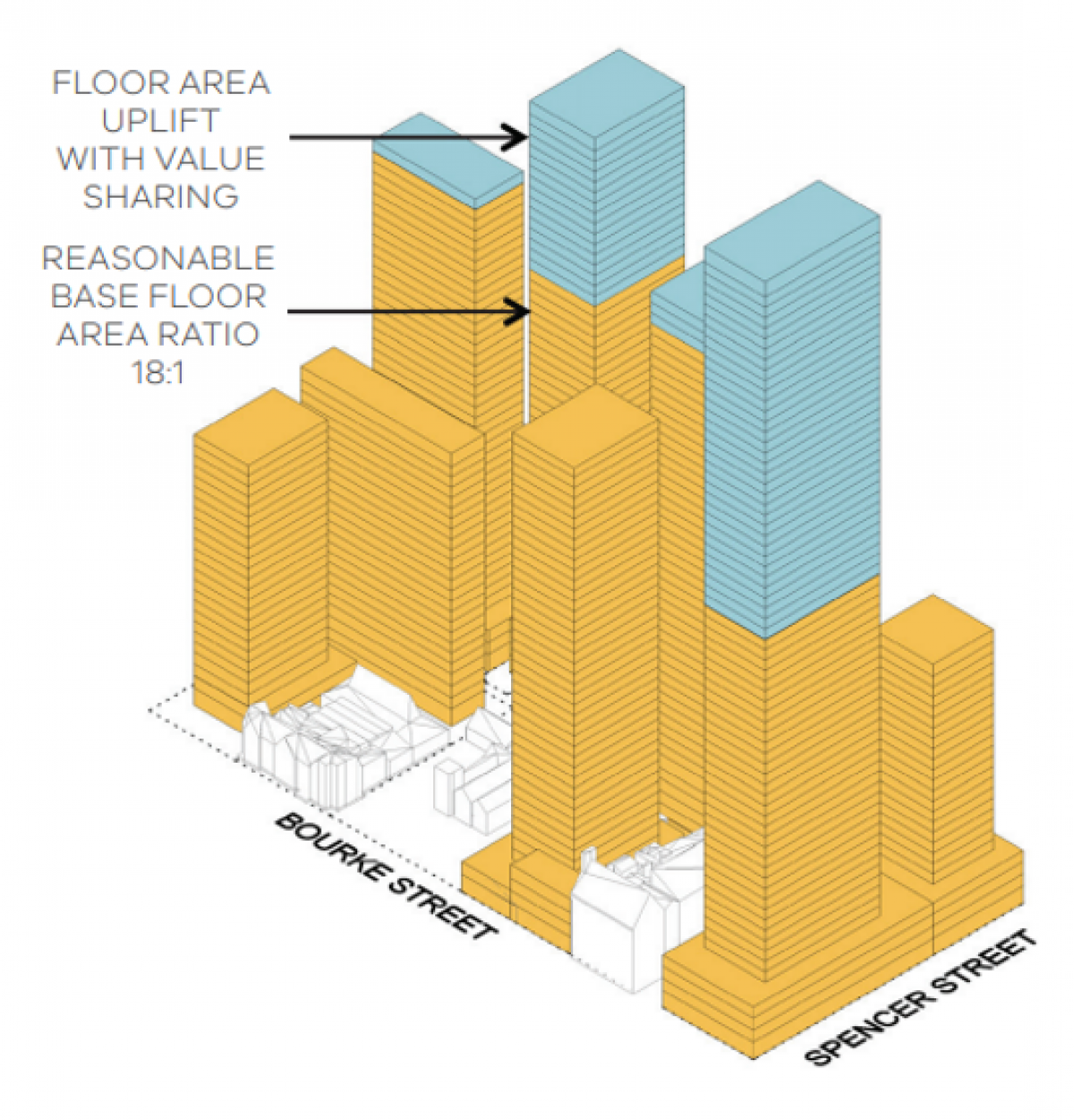 Floor area uplift calculation
Additional floor area > extra commercial value > 10% public share > value of benefit
Public benefits (agreed with council)
Public open space and laneways on site
Strategic use (office)
Public space in the building
Affordable housing in the building
Fixed tower setbacks with defined flexibility
A street wall height (podium) up to 20m, with discretion to increase the street wall height to 40m to match the existing streetscape, and the ability to increase this height for sites on main street corners.
A preferred street setback of 10m for towers above the street wall (podium) with discretion to reduce to 5m.
A minimum side and rear setback of 5m for buildings up to 80m high above the street wall (podium), except where it can be demonstrated that building to one boundary is justified by context and does not unduly impact neighbours' amenity.
A minimum side and rear setback of 6% of the overall height for buildings over 80m, with discretion to allow the building floor plate to be adjusted.
A minimum setback between towers within the same site of 6% of the total combined height, with discretion to allow the building floor plate to be adjusted.
Towers up to 80 metres in total height
Preferred requirement
Street setbacks = 10m minimum
Side & rear setbacks = 5m minimum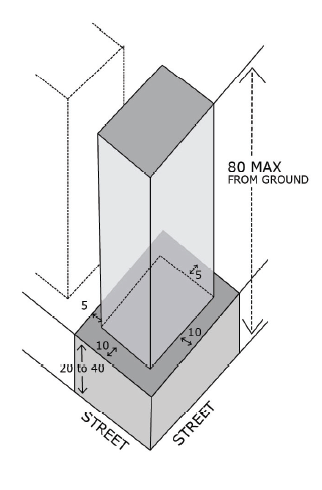 Modified requirement
Building to one boundary
Street setbacks = 5m minimum
Modified requirement
Building to corner or public space
Towers greater than 80 metres in total height
Preferred requirement
Street setbacks = 10m minimum
Side & rear setbacks = 6% total height minimum
Modified requirement
No increase in floorplate area
Street setback = 5m minimum
Side or rear setback = 5m minimum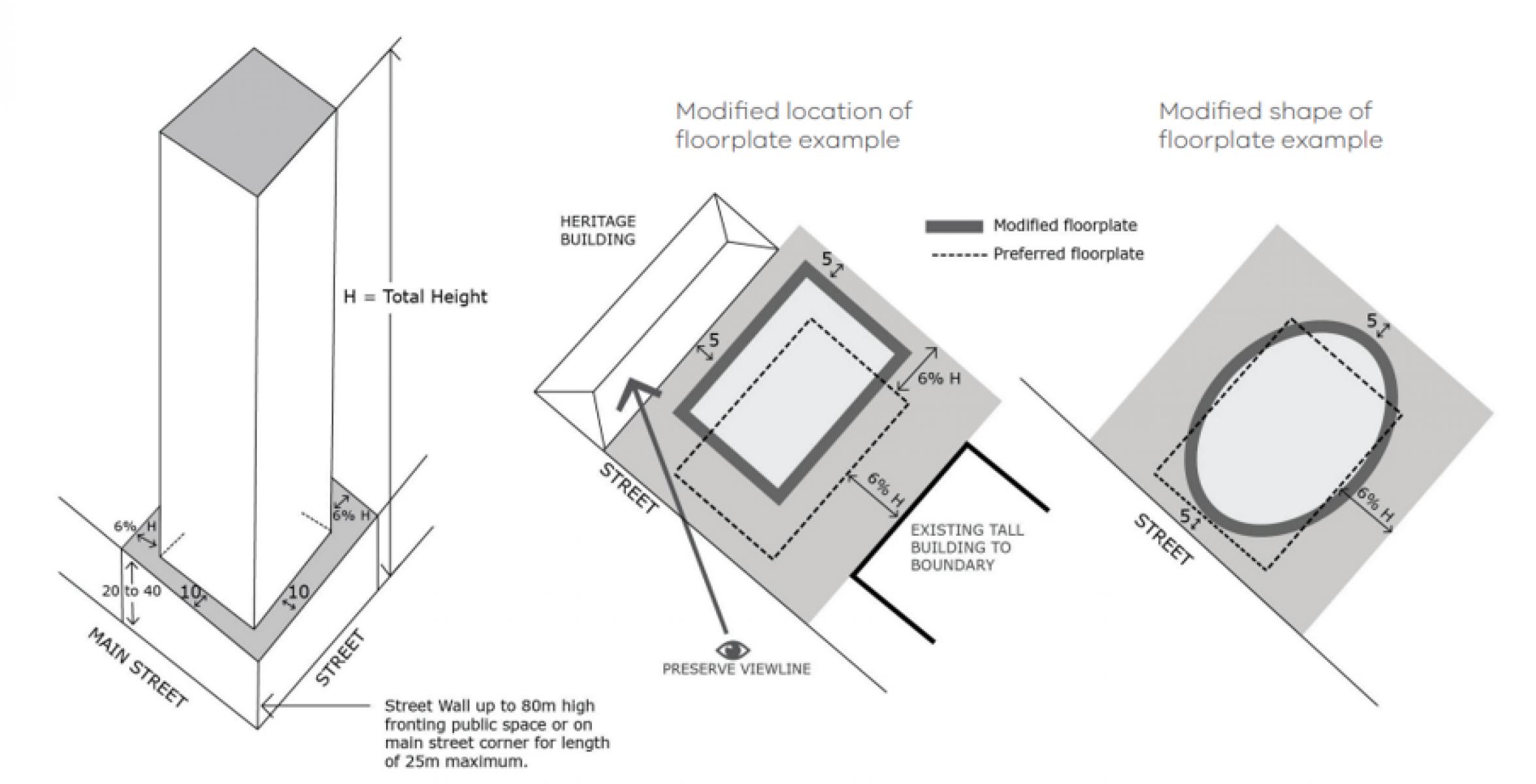 Height controls only in special areas
Height controls are in place in specific areas, such as in Bourke Hill. A boundary for the Retail Core height controls protects the western side of Elizabeth Street which generally aligns with the zoning.
Floor area ratio explained
A floor area ratio (FAR), also known as a plot ratio, is a measure representing the density of a building or buildings within a specified area of land. For example, if a site has an area of 1,000m2, a FAR of 18:1 allows the construction of 18,000m2 of floor space. This might be a building built across the whole site to 18 storeys or a building built on half the site to 36 storeys.
FAR is widely used around the world to assess density, including in Sydney, Chicago, Singapore, New York, Perth and Auckland.
The central city offers competitive development opportunities with a FAR of 18:1 that is more generous than what is in place in other Australian and most international cities.
New York – up to 12:1
Sydney – up to 15.4:1
Melbourne – 18:1 no upper limit
Auckland – up to 13:1
Chicago – up to 24:1 (no setbacks)
Singapore – up to 14:1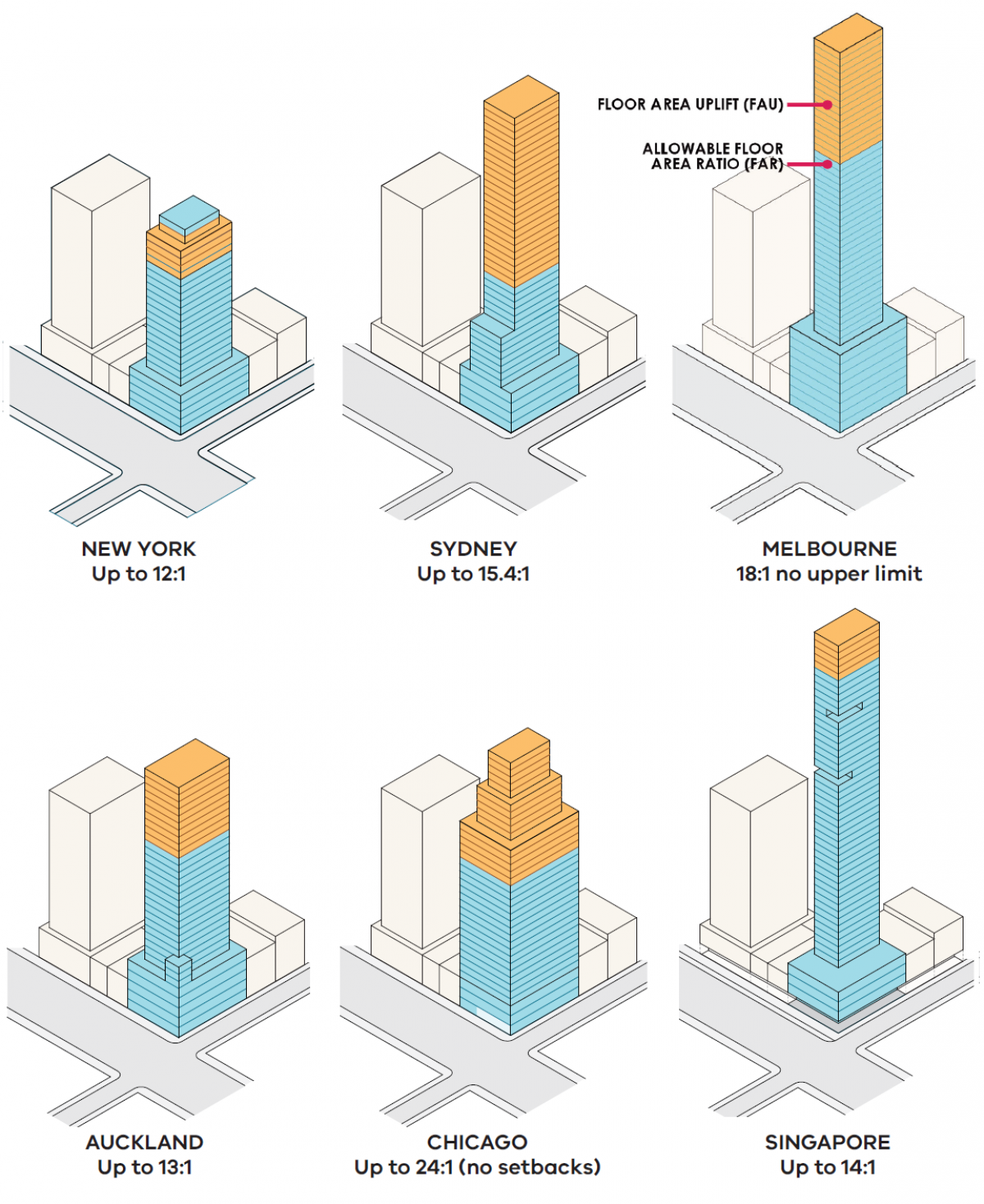 Central city built form review 2016
Melbourne has experienced significant growth in the number and density of new developments in the central city. There had not been a significant central city built form update since 1999. Most of the existing provisions were more than 30 years old and are no longer adequate for the current scale and density of development.
In September 2015, the Minister for Planning announced a review of Melbourne's central city built form. The Department of Environment, Land, Water and Planning led the review in partnership with the City of Melbourne, and with input from the Office of the Victorian Government Architect.
New planning controls were introduced in November 2016 to provide improved public amenity and deliver consistency and certainty that will ensure Melbourne's central city grows in a way that protects and enhances its liveability.
Page last updated: 14/06/23