Protecting the Macedon Ranges region
The Victorian Government is committed to protecting the Macedon Ranges region. This region is of state significance due to its strong cultural heritage values, its unique character, and its production of some of the best food and wine in Victoria.
The region also has strong landscape features, water supply resources and attractive tourist destinations such as Hanging Rock.
Next Steps - Partnership Work Plan
The Minister for Planning has accepted all 12 of the recommendations made by the Macedon Ranges Protection Advisory Committee.
The Department of Environment, Land, Water and Planning is working in partnership with the Macedon Ranges Shire Council and the Victoria Planning Authority to implement the recommendations. Planning reforms will be delivered to recognise and protect the significant values of the Macedon Ranges region.
You can view details of the planning reforms and work program here:
The partnership will work closely with traditional landowners (the Dja Dja Wurrung, Taungurung, and Wurundjeri Peoples) to ensure that Aboriginal cultural heritage values are understood and protected.
The Macedon Ranges community and other stakeholders will have the opportunity to have a say about the future of the region at key stages in the implementation of the work plan.
The partnership work plan includes:
A new Localised Planning Statement that will strengthen the importance of the Macedon Ranges region in state planning policy. This will include a framework plan showing a clear settlement structure and long-term settlement boundaries for each township.
New Macedon Ranges Protection Legislation that enshrines the significance of the Macedon Ranges region in Victorian law.
Updated local planning controls that implement the new Localised Planning Statement, including revised Vegetation Protection and Significant Landscape overlays, and other controls as required.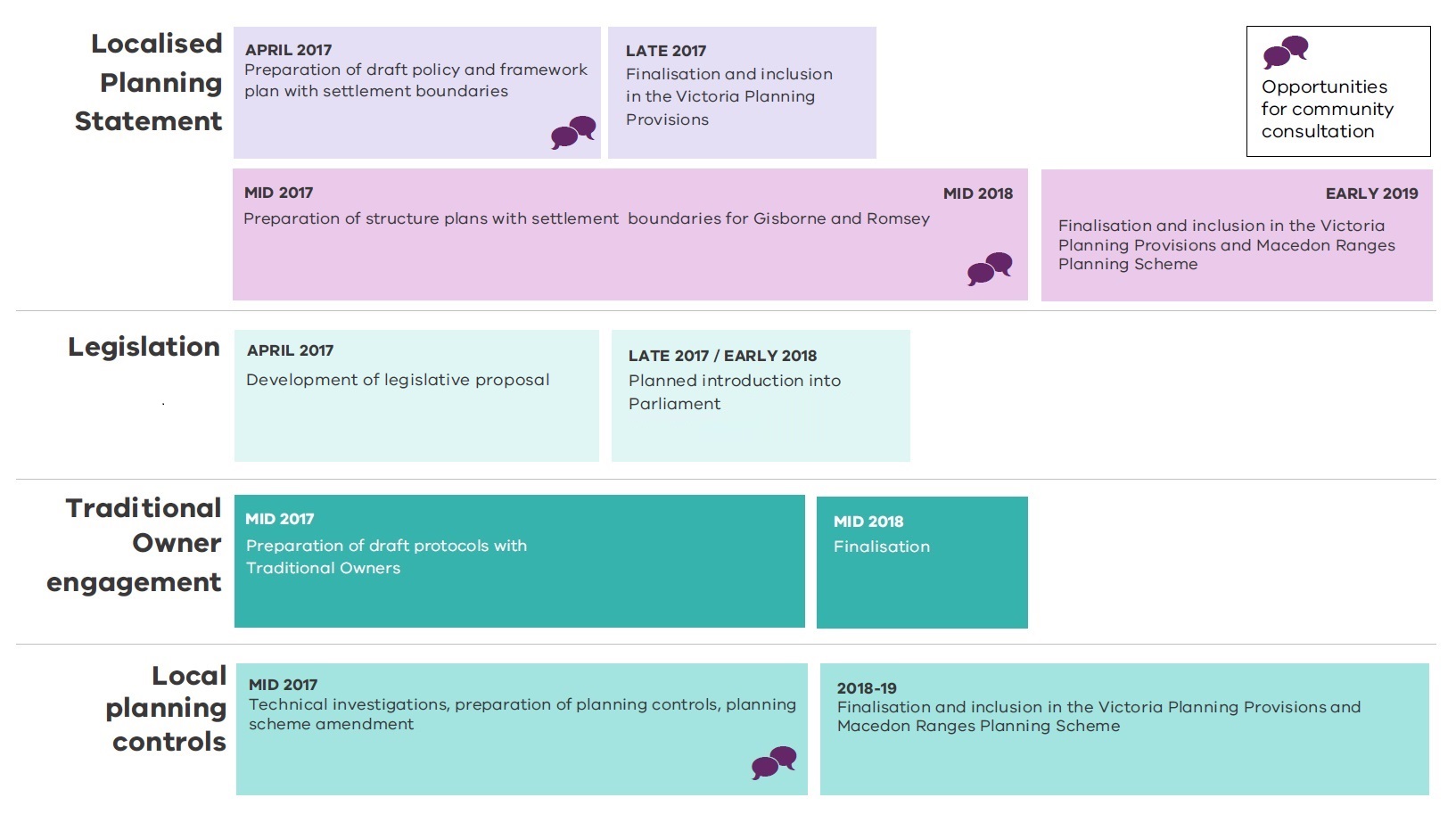 For information about the Macedon Ranges Planning Scheme and recent amendments, visit planning-schemes.delwp.vic.gov.au
Macedon Ranges Protection Advisory Committee
An Advisory Committee was announced in November 2015 to provide advice to the Minister for Planning on policy and legislative changes to improve the protection for the region.
As part of its work, the Advisory Committee released an Issues Paper in March 2016, and invited the public to make submissions. Extensive consultation was undertaken with the local community and key stakeholders, and public hearings were held in May 2016.
The Advisory Committee submitted its report to the Minister for Planning in July 2016: