The Minister for Planning has referred this site to the Government Land Standing Advisory Committee (Advisory Committee) for advice on the proposed planning provisions.
---
Site details
Site owner: Melbourne Water
Planning Provisions
Current

Proposed

Zoning

Public Use Zone 1 – Service and Utility

General Residential Zone - Schedule 1

Overlays and other provisions

Bushfire Management Overlay (BMO)

Design and Development Overlay – Schedule 1 (DDO1)

Environmental Significance Overlay – Schedule 17 (ESO17)

Vegetation Protection Overlay – Schedule 1 (VPO1)

Retain all existing overlays
Location
Municipality: Mornington Peninsula Shire Council
Address:181 Jetty Road to Herman Street, Rosebud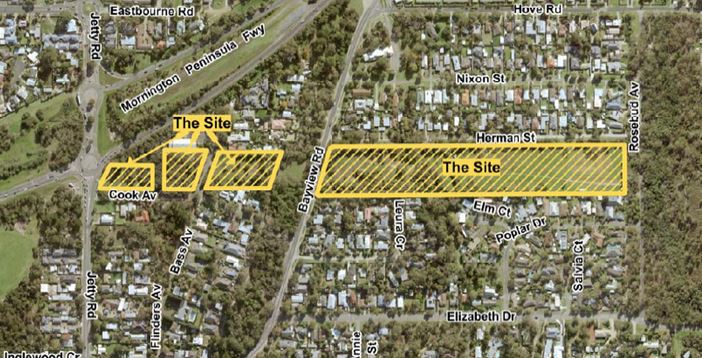 Key Dates
Information session
The Advisory Committee hosted a public information session on 16 November to outline the process, timing and how to make a submission, and answer questions.
Public Hearings
The Advisory Committee will hold public hearings for submitters who wish to make a presentation, in the week beginning 6 February 2017.
If you have requested to make a presentation, the Advisory Committee will write to you to confirm the date, time and location of the public hearings after the exhibition period has closed.
Information Pack
The following information will help you understand the proposal and why the planning provisions were selected.
Additional information provided by Melbourne Water 17 February 2017
Contact information